Moulding Choices
Stair nosing
Stair nosing is usually installed on or around a landing in order to create a natural link between the floor and stairs.
Offered in 94 or 47 inches.

Reducer
A reducer allows for the transition between two floors of different levels, such as a hardwood floor and a vinyl floor or a short-hair carpet.
Offered in 78 inches.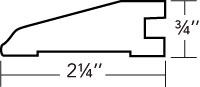 T-Moulding
T-mouldings join the floors of adjacent rooms if those floors are at the same level. T-mouldings can also be used to camouflage an expansion joint over very large areas.
Offered in 78 inches.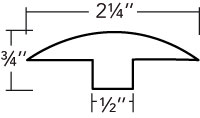 Threshold
Threshold mouldings are installed at the junction of floors that are at different levels, usually at a doorsill.
Offered in 78 inches.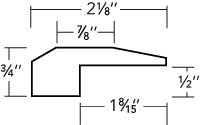 Quarter-round
Quarter-rounds are installed at floor level to create a harmonious link between the base of walls and the floor. A quarter-round can also be installed at the base of cupboards.
Offered in 78 inches.